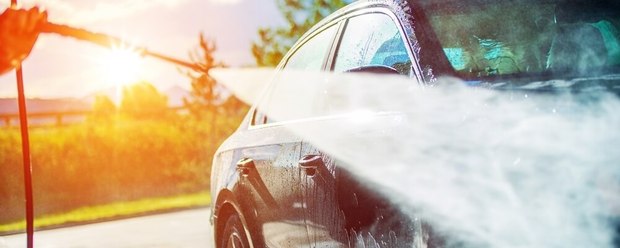 The Right Materials
Electrical outlet
Hair dryer with a high heat setting
Razor blade or box cutter (for use on glass only)
Sturdy plastic card like a credit card or library card
Microfiber detailing cloth
Quick detailing spray
Tree sap remover
Glass cleaner (if you're removing a sticker from glass)
Remove Sticker From Car:
Make sure the area you're working on is free from dirt and grime.
Plug in the hair dryer at the hottest setting, and hold it a few inches above the sticker. Never place it directly on top of your car's paint or the sticker.
Warm the center of the sticker first, and then slowly move it around to warm up the rest of the area. Spend a lot of time on this step, especially if it's a large sticker.
Heat the edges of the sticker last, and then use the right tool for the surface you're working on to get underneath. You may need to keep warming the area over and over again:

How to remove stickers from car paint: Use your plastic card to get underneath the sticker and peel it up, and then continue to work it underneath with your fingers to pull the sticker up. Never use a razor blade or other sharp tool on a painted surface. You'll scratch the finish.
How to remove stickers from glass: Use the box cutter or razor blade at an angle to get underneath the sticker, and then pull it up.
How to remove sticker residue from car: Use a few drops of tree sap remover and your detailing cloth to rub it off. You can also use the razor blade to scrape the glue off the glass.

Finish your job with glass cleaner or detailing spray, and you're done!
Treat Your Car Right at Hiley Mazda
Hiley Mazda of Arlington can help take care of your car on the inside and out. Whether it's
routine car maintenance
or other service, we'll take care of you on quality and
price
. Contact us today to
schedule an appointment
. We're located conveniently near Mansfield and Fort Worth.