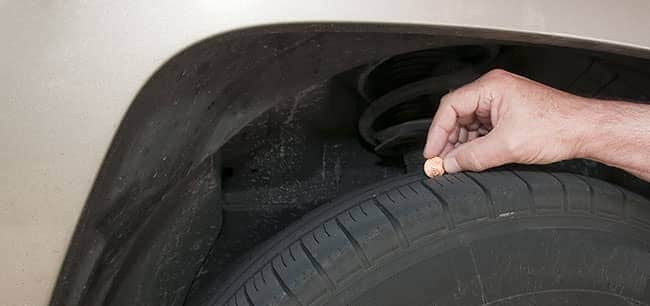 Do you know how to measure tire tread depth on your own car? This simple task can be completed in mere minutes, and it can tell you a lot about your vehicle's health. While there are plenty of expensive tools that you can use, you can measure tire tread depth for just one cent! Learn all about tire health with Hiley Mazda of Arlington.
Tools of the Trade
What do you need to measure your tire tread depth? Take your pick of the following options:
A tread depth gauge is a simple and effective way to measure your tread depth. Simply push the probe into the grooves of your tires and read the results.
Tread wear indicator bars are built into some vehicles, like performance cars and trucks. These indicators show the minimum tire tread depth, so you can clearly see when your tread is overly worn.
Can't head to the dealership for a gauge? Grab your wallet! A simple penny can reveal whether your tread is sufficient.
The Penny Test
Before you break out the change, it's important to learn a few tire basics. A set of new tires will typically have tread around 10/32 or 11/32 of an inch. When your tires hit 2/32 of an inch, the U.S. Department of Transportation recommends that you invest in a new set. In fact, many states require this by law!
So, how does the penny factor in? Take a look at the face of your coin. The distance between Lincoln's head and the top of the coin is approximately 2/32 of an inch. If you flip Lincoln upside down and place the penny between the tread ribs, you get a quick and easy assessment of your remaining tread. If Lincoln's head disappears in the tread, you are above the minimum tire tread - but be sure to re-check periodically. If his head is still visible, it's time to head to the shop! Your worn tread can compromise everything from fuel economy to handling to safety.
Find Your Next Set of Tires at Hiley Mazda!
Ready to pick up a new set of tires? Find tires near you at Hiley Mazda in Arlington, serving Mansfield and Fort Worth.