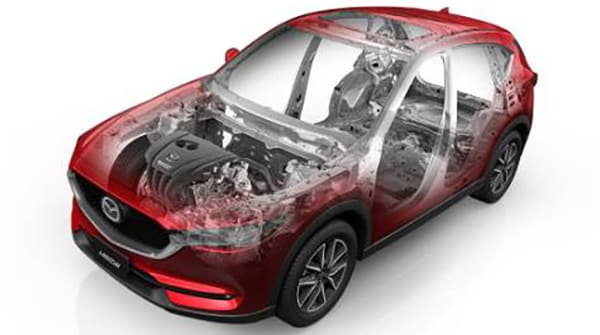 ?
Mazda's commitment to modern engineering continues with SKYACTIV® TECHNOLOGY. This collection of refinements and new systems promises to improve efficiency, performance, and more. Find out more at Hiley Mazda of Arlington today!
SKYACTIV® Engines and Transmissions
The engines and transmissions in new Mazda vehicles like the Mazda3 benefit from SKYACTIV® TECHNOLOGY. Find out how they transform efficiency and performance for Mansfield drivers:
SKYACTIV®-G - These 2.0L and 2.5L gas-powered engines uses air and fuel compression to achieve better fuel economy. It even offers the highest gas compression ratio at 14.0:1. These engines are available in the new Mazda3, new Mazda6, and other new Mazda models, and they use increased torque at low- and mid-engine speed for thrilling acceleration.
SKYACTIV®-Drive - This six-speed automatic transmission combines responsive gear shifts with a wide range of gear ratios. It combines the best aspects of a continuously variable transmission, dual clutch transmission, and old-fashioned automatic transmission. You'll enjoy quick start-up and a more direct feel on the open road.
SKYACTIV®-MT - For more precise shifting control, this six-speed manual transmission deliver race-ready thrills. It's also lighter than previous generations, and the crisp gear shifts need to be experienced to be believed.
SKYACTIV® Chassis and Suspension
If you're looking to balance out a smooth ride with a lower body weight, SKYACTIV® TECHNOLOGY will transform your daily drive in Fort Worth.
SKYACTIV®-BODY - The new generation of SKYACTIV® engineering boasts an 8% reduction in weight and 30% increase in rigidity. This provides better collision protection as a result of a more continuous design and multi-load path structure.
SKYACTIV®-CHASSIS - Enjoy a lower overall weight, new electric power steering system, and a new suspension system in the front and rear. Mazda's new approach to engineering results in more athletic handling and improved efficiency.
SKYACTIV®-VEHICLE DYNAMICS - Available in select Mazda vehicles, the SKYACTIV®-VEHICLE DYNAMICS system uses G-Vectoring Control to customize the force delivered to each wheel. That delivers better grip and more responsive cornering. It can reduce engine torque at the beginning of the turn and return it to an optimal amount at the end.
Learn More at Hiley Mazda
The Mazda experts at Hiley Mazda are happy to help you decide which Mazda model has the technology you need. We can also help you with leasing vs. financing or any other needs you have. Contact us today with any questions!