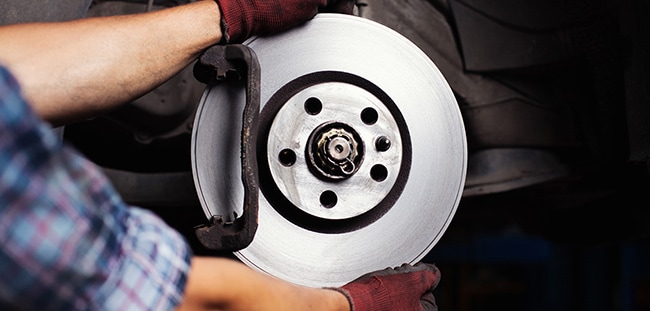 When your car is ready for new brakes, you're going to notice some big signals. Here's a hint: your senses will give you the heads up. Here's how to tell if you need new brakes:
Signs of Bad Brakes
Signs of bad brakes include squeaking and grinding noises, and a weird feeling when you press the brake pedal. If you hear squealing, grinding, or squeaking noises when you brake, it's a sign that your brake pads or rotors need to be replaced, or you might have a loose brake pad or caliper. Pay attention to an extremely high-pitched sound of scraping, which is much more urgent. That means your pad-wear indicators are notifying you that they're worn out. In some instances, you might find that the noises disappear after you use your brakes a few times. That just means that your brakes might have had some light moisture, dirt, or other grimy coatings that were not a problem.
If you notice that it's taking you longer to stop, that can indicate worn brake pads and rotors, too.
A red warning light on the dash for your brakes is a definite indicator that your brakes are worn out and need a repair.
New Brakes
A complete inspection will give you the definitive answer of whether it's time for new brakes. The service center at Hiley Mazda can evaluate your entire brake system - brake rotors or rear drums, brake pads, calipers, master brake cylinder, and fluid lines. We'll take your manufacturer guidelines into account and make a recommendation on what the next step should be. Our expert analysis will review how thick the brake pads are and if the rotors are wearing out evenly, and we understand that different vehicle models have different lifespans for brakes. The good news is that brakes wear out gradually, so you should have time to assess what's happening and plan for your brake repair.
Schedule Service at Hiley Mazda
If you're noticing some symptoms of brake issues, simply schedule a service appointment for your brakes at Hiley Mazda of Arlington. We're conveniently located near Mansfield and Fort Worth, and we'd love to help. Contact us today!